Everything You Need To Know About Roof Replacement Costs and Materials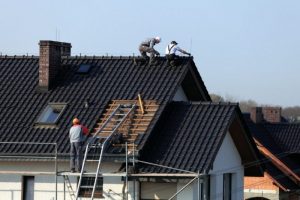 Roof replacement is a major undertaking. It's time-consuming, expensive and often involves a lot of decision making – from the best shingles to use, to their colors and how they will affect your curb appeal.
But it's all worth it.
Why?
Because the roof is arguably the most important component of your house.
A roof goes beyond the basic appeal and aesthetics.
It helps protect your warm, cozy home from weather elements hence increasing its longevity and resale value. Therefore, a solid roof is pretty crucial. Yet, most people have no idea how often they should replace their roof, the cost of a replacement and the ins and outs of this crucial process.
Here's what you need to know about your roof to help you prepare for this major home improvement:
---
Contact Main Street GC Inc about your roofing project
---
How Often Should You Replace Your Roof?
Honestly, there is no silver bullet answer to this question. The lifespan of your rooftop depends on the materials used, the installation process, roof slope and design, proximity to trees and shades, ventilation, and the weather in your area.
From metal to asphalt shingle roofs, each roof type has its own lifespan. Typically, a roof can last anywhere between 20 to 50 years.
But after years of keeping rain, snow, and hail out of your house, your rooftop is likely to need a replacement. If your roof is on warranty, it does not necessarily mean that it will fall apart a year after, or that your lifetime warranty will guarantee a perfect roof all through. No.
You will need to make roof repairs from time to time, especially after storms and damage from fallen trees. But, typically, here are some common estimates for how often to replace a commercial or a residential roof:
Composition shingles: 15-20 years
Wood shingles: 20-25 years
Asphalt shingles: 15-30 years
Rubber Roofs: 30-50 years
Metal roofs: 50-75 years
Factors That Influence the Lifespan of Your Roof
While most of these roof installations come with years of useful lifespan, a severe hail damage may need an immediate roof replacement. On the other hand, if all conditions are right, and the roof is properly maintained, its lifespan can be tremendously extended, even beyond its set lifespan. Here are some of the factors that influence the lifespan of your rooftop:
Improper Installation: If your rooftop is not installed correctly, it may start leaking and get damaged sooner than expected.
Neglected repairs: Ideally, you should get your roof inspected every 2 years. If you don't fix small leakages and worn out areas in time, your roof's lifespan will be greatly decreased. This will require completely new roofing.
Incorrect roofing materials: A roof is as good as its roofing material. Using the wrong material can cause you to replace your roof earlier than projected. For instance, in an area prone to hail storms, choosing the wrong shingle type will massively reduce your roof's lifespan.
The environment: While we can control the materials used and seek professional roof installation and maintenance services, a homeowner cannot control the weather elements. Some areas are naturally prone to more roofing damages than others. If your home is on a hilly area, the shingles are likely to undergo more abuse than they would elsewhere.
Some of the common telltale signs that you need a roof inspection and possibly a new roof replacement include:
Your roof has exceeded the expected lifespan
Widespread moss
Cracked and split shingles
Sagging roof deck and framework
Multiple roof leaks
Large amounts of shingle granules on the ground
Faded colors and stains
Curling and cupping shingles
---
Speak with Main Street General Contractors today
---
Average Cost of a Replacement
Roofing costs are broken down into 3 general categories: materials, labor, and disposal. The roof replacement costs vary depending on several factors, including:
Region and home's location
Roof size
Pitch and overall complexity of the roof
Materials used
Type of installation
Number of layers to be removed and disposed of
The number of skylights, plumbing pipes, chimneys or other nuisances that need to be addressed during installation.
Most roofing contractors will price their asphalt shingles roof replacement between $3.50 to $5.00 per square foot. According to a report by Remodeling magazine, the cost of installing a "midrange" 3000 sq. foot asphalt shingle roof with a vented ridge and skylights was placed at $20,664.
But this cost can be more or less depending on the size and complexity of your roof, where you live (costs in some cities are higher than in others) and the materials you choose. For instance, if you were to choose to use higher-end products such as tile, metals, and slate, your costs would be anywhere between $9 and $15 per square foot.
Basic Materials and Costs
With all cost factors out of the way, it's now time to decide on the material. Here are a few average total costs of common roof systems installed on a 20 – 30 square roof:
3-Tab 25-year Asphalt Shingles: $6,725 to $9,000.
30-year Architectural Shingles: The total cost of a standard house could range from $7,850 to $11,000
Premium 50-year Shingles: The cost will probably range anywhere from $9000 to $14000.
EPDM Rubber: The total cost of a standard house could range from $8,000 to $14,000
Wood Shingles: The total cost of a standard house will range from $14,000 to $25,000
Steel Shingles: $14,000 to $25,000
Aluminum Shingles: $15,000 to $28,000
Natural Slate: $25,000 to $50,000
Concrete Tiles: $20,000 to $40,000
You Can Reduce Roof replacement Costs By:
Doing your homework: Understand the ins and outs of a roof replacement materials and process.
Shop around: get costs estimates from different professional roofing companies.
Time it right: If you can push your roof replacement to late winter or spring, chances are that you get great deals and off-season discounts.
Use your insurance.
---
Schedule a roof inspection from Main Street GC Inc
---
Can You Claim Roof Replacements on Insurance?
Well, the answer is Yes and No.
Yes, if you're claiming after storm damage, and no if the damage has streaks of neglect.
Finding out that your rooftop needs to be replaced can be troubling and mind wrecking. While the process of filing an insurance claim is extremely tedious and bureaucratic, it is inevitable in case of a roof damage.
Homeowners insurance can save you thousands of dollars in costly repairs and roof replacement after a storm or other disaster.
However, your insurance coverage might not necessarily be a cure-it-all solution. Although wind, hail, and rain are covered in your homeowner's insurance policy, there are several factors that determine if your damage will be covered, and if so, how much will be reimbursed. Some of the factors that are excluded from an insurance cover include:
Improper maintenance
Material: Some insurance won't cover some materials due to the extra maintenance costs needed
Old roof: Some insurance companies exclude covering roofs that are almost nearing their useful lifespan.
Repair vs. full replacement: Some insurance policies will only cover roof repairs and only cover roof replacement partially. Meaning that in case of severe damage, your policy might not foot the whole bill.
It is important to check the fine print on your homeowner's insurance before a storm damages your roof. But if you've already discovered significant damage to your roof, don't fret!
We recommend that you find a professional roofing company to assess the damage right away, then contact your insurance company. Working with a professional roofing company with prior experience in insurance claim process will help move the process along efficiently and make the whole roof replacement process a breeze.